Coronavirus Information
STAY AT HOME
National Lockdown Guidance January 2021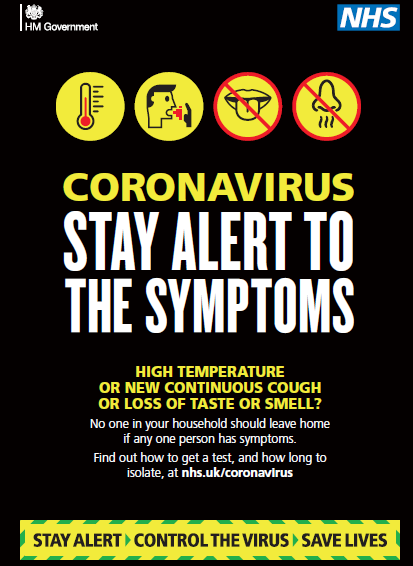 There are things you can do to help stop viruses like coronavirus spreading.

Do

• Wash your hands often using soap and water. Alcohol-based hand sanitiser gel (containing at least 60% alcohol) can be used if soap and water are not available, but is not a substitute for hand washing

• When sneezing or coughing 'Catch it, bin it, kill it!'
 cover your mouth and nose with a tissue or your sleeve (not your hands)
 immediately throw used tissues in the bin
 wash your hands

• Try to avoid close contact with people who are unwell

Don't
• do not touch your eyes, nose or mouth if your hands are not clean

Antibiotics do not help, as they do not work against viruses. Treatment aims to relieve the symptoms while your body fights the illness. You'll need to stay in isolation away from other people until you've recovered.
Letters for your information
Coronavirus Public Health Advice Poster
Cumbria County Council School Transport Autumn 2020
Please find information links below for the following guidance:
Stay Alert and Social Distancing
Guidance for households with confirmed or possible cases of COVID-19
Guidance for full opening: schools
Guidance and shielding and clinically extremely vulnerable groups
Guidance-for-schools-and-other-educational-settings
coronavirus-advice-for-all-early-years-providers-schools-and-education-providers
Coronavirus-Public Health Advice
DfE Coronavirus Helpline poster