Coronavirus Information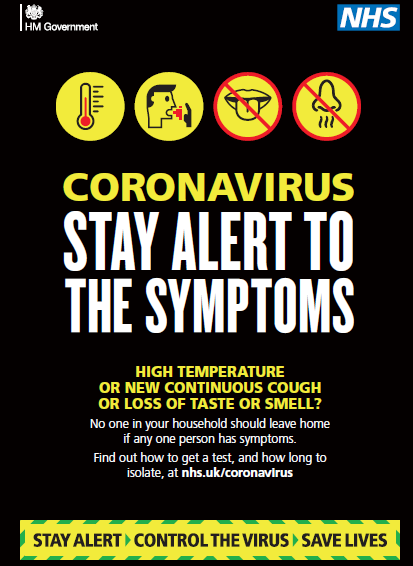 There are things you can do to help stop viruses like coronavirus spreading.

Do

• Wash your hands often using soap and water. Alcohol-based hand sanitiser gel (containing at least 60% alcohol) can be used if soap and water are not available, but is not a substitute for hand washing

• When sneezing or coughing 'Catch it, bin it, kill it!'
 cover your mouth and nose with a tissue or your sleeve (not your hands)
 immediately throw used tissues in the bin
 wash your hands

• Try to avoid close contact with people who are unwell

Don't
• do not touch your eyes, nose or mouth if your hands are not clean

Antibiotics do not help, as they do not work against viruses. Treatment aims to relieve the symptoms while your body fights the illness. You'll need to stay in isolation away from other people until you've recovered.
Key Information
COVID Catch Up Funding
The Government have announced a package worth £1 billion (https://www.gov.uk/guidance/coronavirus-covid-19-catch-up-premium) to ensure that schools have the resources they need to help all pupils make up for lost teaching time, with extra support for those who need it most. £650 million will be spent on ensuring all pupils have the chance to catch up and supporting schools to rise to the challenge. This one-off grant funding will be paid to all state-funded primary, secondary and special schools in the 2020 to 2021 academic year.
At Beckermet Church of England Primary School, the Leadership Team have undertaken professional dialogue with teachers, who have observed, assessed and liaised with parents to identify pupils who will benefit from additional support to diminish gaps in their reading, writing and maths. Pupils who have been impacted in a negative way with their wellness have also been identified with additional support, nurture and intervention.
The additional catch up money will be used to fund additional hours for current staff who are experienced teaching assistant on our team. A detailed timetable of support interventions has been devised and implemented. The Leadership team have identified effective interventions, based on experience and research undertaken by the Education Endowment Foundation (EEF). The impact of these interventions is measured termly and the timetable of support reviewed to ensure that we are accelerating their academic progress and preventing the gap between them and their more affluent peers widening