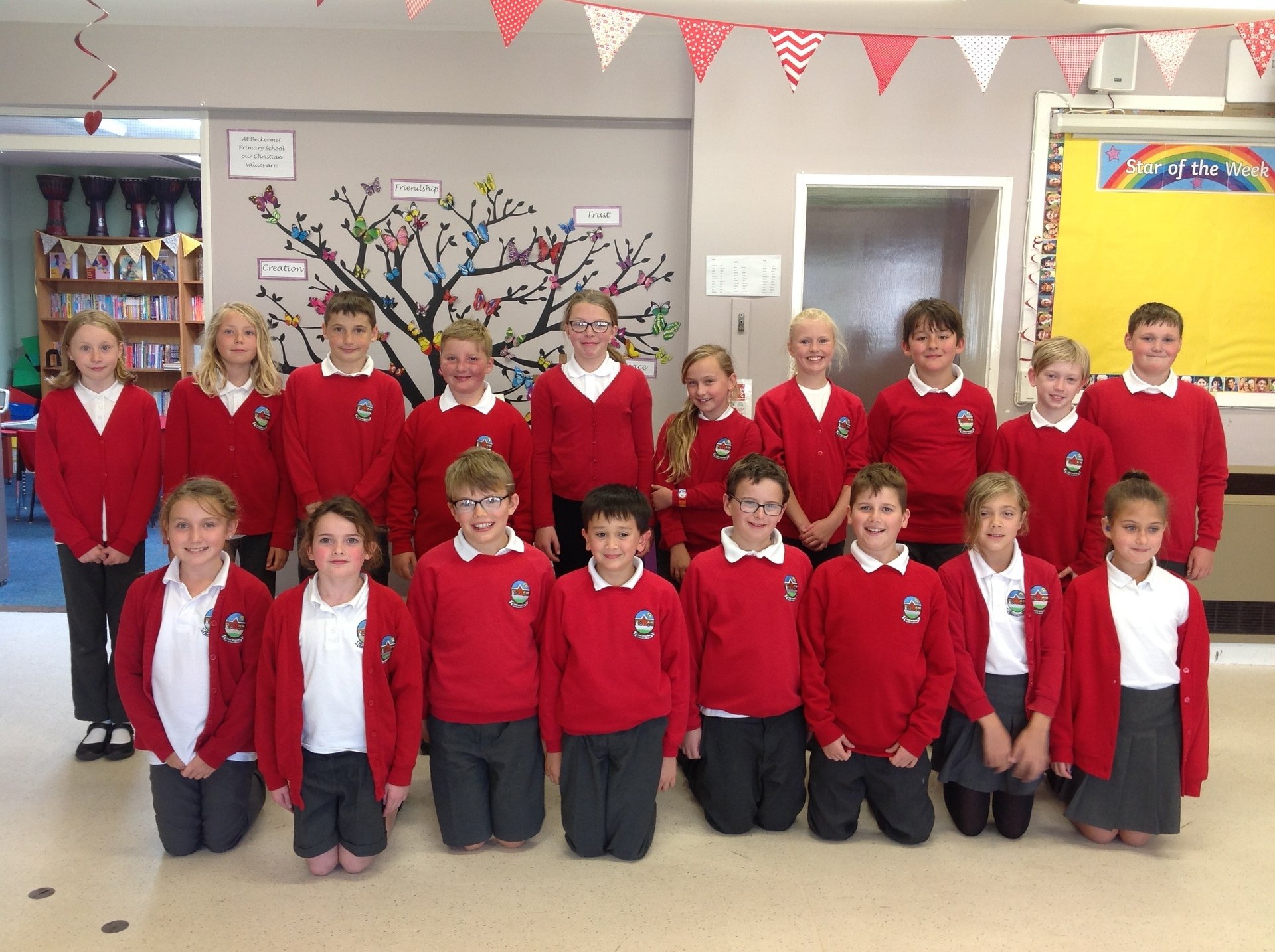 Easter Holidays
You've all worked so hard this week and I'm really impressed with you all. I want you all to have a very relaxing and special Easter. Here are some activities:
Keep active! This could be by taking part in the daily PE from Joe Wicks or playing games in your garden.

Keep reading! If you read a book and it's fantastic please let your friends know about it. Take some time to read the Easter Story here.

Ask your parents to share some photo albums from the past with you. Sit down and chat about what it was like when your parents and other family members were younger.

Try to do something each day to help your parents. This could be: hoovering, washing up, mopping, sweeping, tidying your room, organising things.

Get crafty! Have a go at some Easter crafts. Here are some ideas.

Have a go at some of the activities on the weekly additional grids I printed and put in your home learning folders.

Keep your times tables knowledge sharp by going on Times table rockstars. Have a go at some of the other learning activities below. It's brilliant how much some of you are using prodigy and classroom secrets for kids.

Ask your parents if you can do some baking together.

Keep up your diary writing! These diaries will prove to be invaluable when it comes to looking back and reflecting on this time in our lives.

Sit in your garden and make a note or sketch any wildlife you can find. The RSPB has a bird identifier tool and here is an activity sheet.
Could you build a bug hotel in your garden?
Home Learning
Please check this class page regularly to see home learning resources I will be posting for completion at home. I will post some specific activities for children to complete as a minimum and some general resources for children to engage with additional to these. For those who do not have access to a printer, please complete activities in an exercise book, notebook or on paper. Please remember to note down the date at the top of the page. A letter will be sent out with my email address on it so that you can contact me to keep in touch with any questions.
Earlier in the week I signed year 5/6 up to Classroom Secrets for Kids. Each child has their own individual login to access this learning platform.
Children have an individual login for Times table Rockstars and Prodigy. These are two fantastic learning platforms. I will log on to these sites regularly to monitor how much children are using them.
Here are some resources for children to engage with at home:
Friday 27th March 2020
Good morning and happy Friday! We've reached the end of our first week of home learning. Give yourselves a pat on the back for working so hard! Give your parents a pat too!
Maths: Here is video which outlines the differences between metric and imperial measures. Here is a bitesize page on imperial measures. Here and here are some useful conversion tables.
Can you do some measuring at home in imperial measures?
Can you find something in your house that is exactly 1 inch? What is the biggest object in your house? How many feet in length is it? The longest object in my house is my sofa which is 9 feet 2 inches long.
Can you use a measuring jug and work out how to fill your sink with exactly a gallon of water?
In your books:
Can you put the following metric and imperial measurements of capacity in ascending order: gallon, pint, centilitre, millilitre, litre.
Can you put the following metric and imperial measurements of weight in ascending order: kilogram, tonne, pound, stone, ounce, gram.
Can you put the following metric and imperial measurements of length in ascending order: metre, kilometre, centimetre, mile, yard, inch, foot, millimetres.
Year 5 converting units end of block assessment and answers
Year 6 converting measures end of block assessment and answers
English: Ask an adult to test you on your ten spellings you got on Monday. Ask them to read the word in a sentence for you to copy down.
Today we are going to refresh our memories on antonyms and synonyms.
Remember an antonyms are opposites e.g. large and small (Imagine ANTS running in opposite directions). Remember a synonym is a word or phrase that has the same or nearly the same meaning as another word or phrase e.g. smile and grin.
There are two antonym and two synonym matching games to play on classroom secrets for kids. Log onto the website and go to the GPS section for your year group. I'll keep an eye out for your scores.
Make a table of antonym and synonyms in your books. Aim for at least 10 examples of each.
Computing: Continuing to think about our homes, I would like you think about what kind of home you would like when you are older. I would like you to design your DREAM house. I would like you to use software to create your dream house. If you have paint software you could ask your parents if you can use that. If you don't already have any drawing software ask your parents to help you find alternative drawing software or app. You MUST not download or use anything without your parents permission and supervision. If you are unable to use software then you can do this in your books. I would love your parents to send me your creations.
Thursday 26th March 2020
I have spoken to most of you on the phone and it is great to hear what you've been up to. You're all engaging with this class page and a lot of you are doing extra things like going on Prodigy, Times tables rock stars and some of the other links above. Have a look at the 'useful websites' of our school website where lots of great things are being added. It's nice to hear so many of you are staying active with Joe Wicks at 9am. Well done everyone and keep it up!
Maths: Today we are going to be working on kilometres (km), metres (m), centimetres (cm) and millimetres (mm). Remember that:
1km = 1000m
1m = 100cm
1cm = 10mm
Have a look at this website. There is a useful clip and some questions to answer further down the page.
Grab the ruler you were given in your folders and get measuring. Pick 5 objects that you can measure with the ruler and write some conversion sentences. Write these in your book. For example:
My phone 14cm in length so it is 140mm. If my phone is 14cm then it is 0.14m. If my phone is 0.14m then it is 0.00014km.
If you have a metre measuring tape in your house it would be great to use that so some of the 5 objects you choose could be on the larger side.
As a challenge could you measure your bedroom or another room in your house? Write this in your book along with a sketch of it (not to scale!).
English: Today I would like us all to refresh our knowledge of apostrophes. Remember we use apostrophes to indicate possession for nouns e.g. That is Roy's dog. We also use them for contractions e.g. That is - that's. Have a look at this and this which looks at using apostrophes for possession. Have a look at this and this which looks at using apostrophes for contractions. What is the rule for using an apostrophe in it's?
Choose one of the following:
Design an apostrophe poster. Explain when to use them and give examples.

Have a go at coming up with an apostrophe quiz. You might want to come up with some sentences that need fixed because there is an apostrophe used incorrectly. Ask someone in your house to have a go at your quiz.
Science: As we are spending more time in our homes than usual, I would like you to brainstorm some energy saving tips for our homes. Make an eco guide or a poster full of useful things we can do in our homes to be more environmentally friendly. Once you have made your guide or poster put it somewhere visible in your house so that it reminds your family. A good idea might be to put it on your fridge. One example of a tip could be to cut open your tube of toothpaste to scoop every last bit of it out so none is wasted. Another tip could be to cut up old socks and turn them into dusters rather than throwing them away. Research lots of tips for your guide or poster. You might get some ideas here.
Reading: Lots of you are reading for pleasure at home and some of you are listening to David Walliams read one of his stories once a day (link above). In addition to this, I would like you to to do some reading comprehension on the circulatory system. This is on the year 5 section of the classroom secrets for kids website which you can access with your username and password. This will help refresh your memory of our recent science work.
Wednesday 25th March 2020
Good morning everyone! Hope you're tuning in live to the daily PE lesson from Joe Wicks. I hope you all enjoyed the elevenses with the World of David Walliams yesterday for 20ish minutes. Try and listen again today. Remember the link is above.
Maths: Today you're going to be converting between litres (l) and millilitres (ml). Remember 1000ml = 1l. Do you have a measuring jug in your house? If you do then use the jug to have a go at measuring the capacity of different objects in your home such as a pan or a bucket. If you don't have a measuring jug you could use an empty bottle and read the label on it to see its capacity. I've used an empty 2l lemonade bottle to measure the capacity of my sink. It took 15 bottles to fill my sink so the capacity of my sink is 30 litres. Have a watch of this video. There are some challenging questions at the end so remember to pause the video while you work them out.
Year 5 activity
Year 6 activity
English: Continue and complete your newspaper article today. Self-assess your work by checking you have included the features from the bullet point list yesterday. Use a different colour to correct any mistakes and make any amendments. Ask an adult to read your article and ask them for some recommendations. I bet they are very amusing!
RE: Imagine that you are a person who lives in Jerusalem at the time of the resurrection of Jesus. A newspaper reporter who works for 'The Jerusalem Times' has asked if he can interview you.
Here are his questions:
What can you tell me about Jesus?
Did you ever see Jesus? Where? What was he like? Who were his friends?
Why do you think Jesus was crucified? Who was there?
What do you know about his resurrection? Who discovered his body was missing from the tomb? How did you feel when you found out? What did Jesus do when he came back? What do you think this will mean for Christians?
Do you think Jesus will be remembered? How? Why?
Write your answers to these questions in as much detail as you can.
Tuesday 24th March 2020
Start your day with the daily PE lesson Live at 9am from Joe Wicks the body coach. See the link above. I thought this was exhausting yesterday so I am hoping he will help me get fitter if I keep doing this every morning!
Maths: Today you are going to be converting between grams and kilograms. Remember 1000g = 1kg. Start by watching this BBC clip which has the Chuckle Brothers solving a problem. Have a look around your house and list 5 things in your book that you estimate would weigh <1kg and 5 things that you think would weigh >1kg. If you have a set of weighing scales in your kitchen, try weighing some items. Pick some pairs of items to compare their weights using < > or =. An example of this could be:
Phone 143g < Book 231g
If you don't have any scales don't worry. You can find some things in your kitchen that have the weight in g/kg on them such as a bag of rice or washing powder and compare those items.
Year 5 activity. Do at least questions 1,2 and 3.
English: You're going to do some more imaginative writing today and tomorrow! There has been a giraffe spotted in a field in Beckermet! Here's a picture of the lost fellow. You need to write a newspaper report on this strange occurrence. Spend some time doing this today and some time tomorrow. Aim to include the following features:
A catchy headline (remember alliteration can be great). Don't forget the name of the newspaper and the reporter's name!
A subtitle which gives a bit more information about what the article is about
Direct and reported speech. Aim for 2 or 3 quotes from eye witnesses or an official. Aim for the quote to reflect the person who is speaking, for example a young child would say something different to a member of the police force or the local MP
A sketch with a caption
A first paragraph(s) which answers the questions: who? what? when? where? why?
Write about the main events in chronological order
Written in the third person and in past tense
Art: You are going to sketch a giraffe! You might want to do this activity first so you can use your sketch in your newspaper article. Get your pencil nice and sharp and use this video to create a fantastic sketch. You will need to pause the video very often to keep up.
PSHCE: Carrying on with your learning about money, I would like you to think about the difference between essential and non-essential costs/spending. Make a list of 5 things you think are absolutely essential to spend money on and 5 things you think are non-essential. Will this be the same when you are an adult? Talk to your family about essential and non-essential costs.
Remember to work on your weekly spellings and read for pleasure!
Take regular breaks. Have a relax by clicking on the link to elevenses with the world of David Walliams. Enjoy 20 minutes listening to him read a story from the World's Worst Children at 11am each day.
Monday 23rd March 2020
Start your day with the daily PE lesson LIVE at 9am from Joe Wicks the body coach. See the link above.
Weekly spellings for week beginning 23.03.20. Please make a note of these spellings in your books and practise these throughout the week. Choose an activity from the spellings activity sheet I gave you. Ask an adult to test you on them on Friday.
Maths: This week we are going to be working on converting measurements. We will start my converting 12-hour times to 24-hour times. Spend some time playing on this telling the time game. Select the option of the 24-hour clock and see how many you can get in the time limit. Here are the year 5 and year 6 activities to have a go at in your books.
English: Hopefully you managed to plan and write your first draft of Part Two of 'Clockwork' by Philip Pullman. This should be an extended piece of writing. Proof read it yourself then ask an adult to check it for you. Ask an adult to identify 5 things that are great about your writing. Has it got a range of punctuation correctly? Is your handwriting cursive? Have you used paragraphs correctly? Have you used some extraordinary vocabulary? Have you built up suspense and tension? Aim to make at least five correction/additions to your version of Part Two and write out your final version. Philip Pullman included some illustrations in this book so remember to add in some sketches to your version.
Topic: Today I would like you to research and compare the climates of the four countries we have been looking at: England (UK), France, Brazil and Mexico. I would like you to find a definition of 'climate' using a paper/online dictionary and write this in your book. I would then like you to research the average annual rainfall and temperature for each of the countries and create a bar chart showing these. Write some sentences to summarise and compare e.g. The warmest country is... The range of temperatures between the four countries is...etc. Use the fun kids website to learn about climate zones and write down which climate zone(s) the UK, France, Brazil and Mexico would fall into and why. The NASA climate kids site is an interesting site.
Thursday 19th March 2020
English: This week we are continuing our work on 'Clockwork' by Philip Pullman. We have read to the end of Part 1 together and I would like you to write Part 2. We were left in such suspense at the end of Part 1. Poor Gretl, sitting by the fire...unaware Sir Ironsoul was approaching her with his sword from behind! Plan your writing carefully before writing out your own take on Part 2. What will happen to Gretl? Will Karl use Sir Ironsoul as his figure in the town clock? Will Fritz finish the story? Has Dr Kalmenius arrived in the little German town to find a new heart for Prince Otto? Don't forget your punctuation . Aa , ? ! " ( ) - ' ...
Maths: We have reached the end of our maths unit this week. Year 5 have become experts at decimals and year 6 have become algebra whizzes. Have a go at the year 5 and year 6 end of block assessment. Here are year 5 answers and year 6 answers.
RE: In RE we are looking at the poem 'Heaven' by Steve Turner. We are also exploring and comparing what Christians, Buddhists, Muslims and Hindus believe about life after death.
Science: In Science we are learning about healthy lifestyles. Make a brochure or a leaflet to educate people on how to have a healthy lifestyle. Include a section on: healthy eating (keywords: carbohydrates, protein, fibre, fats, vitamins, minerals, water); the importance of exercise and ways to do it; tips for a healthy mind.
Please take a look at our curriculum overview for this year 2019-2020.
Here is our English curriculum overview for this year 2019-2020.
Here is our class weekly timetable.
Our topic this term is called 'Remarkable Regions' and it is going to be exciting!
Please see our topic web below. There is some information on other cross-curriculuar learning this term also.
In English we are going to look at 'Macbeth' by William Shakespeare. We will do lots of role play and our writing will include: persuasive letters, persuasive posters, poems, newspaper articles and playscripts.
We are also going to do lots of work surrounding 'Clockwork' by Phillip Pullman. This will lead us to creating lots of suspense and mystery writing.
In Maths we are going to study the following topics:
Fractions (equivalent, simplifying, adding/subtracting, multiplying/dividing)

Ratio and Proportion

Decimals and Percentages

Algebra

Perimeter area and volume

Statistics
We will have regular times table and mental maths challenges in school.
In R.E. we will examine:
How Christians demonstrate justice in their lives. We will look at the injustices of the world and look at people, such as Nelson Mandella, who have fought against these.

How the resurrection is portrayed as central to Christian beliefs.
In Science we are going to look at 'Properties and Changes of Materials' and 'Living things and their Habitats' as our topics.
In PSHCE we will look at:
Elements from the Phunky Foods programme

Money education

Play leaders Programme
In French we are going to learn how we might get to know someone by speaking French. We will learn how to:
Greet people

Ask someone their name and tell them ours

Ask someone how they are and tell them how we are

Talk to someone about school - favourite subjects, days of the week, months of the year

Talk to someone about our hobbies
In music we will look at the Anthology of Fantastic Zoology - Sprite; A Bao A Qu by Mason Bates which was inspired by the 'Book of Imaginary Beings' by Jorge Luis Borges. We will create art-work, poetry and music inspired by a piece of orchestral music, play and perform in ensemble contexts (using voices and musical instruments), improvise and compose music for a range of purposes.
Homework
Children in year 5 and 6 will receive their homework on Mondays and this is expected to be returned to school on Fridays. Children are expected to read to an adult five times per week in order to 'strive-for-5'. Please record reading within planners.
Homework will include a set of spellings with handwriting, and an additional piece which will usually be either maths or English related. Children will make a note of their homework in their planners.
SATs booster sessions will start Monday 20th JANUARY 2020. 3-4pm.