See what is going on in Year 3 and 4
Year 3 and 4's Easter Art Gallery
Working from home isn't stopping the creativity.... some Easter collages form one of our Year 3 girls.
Year 3 and 4 went to visit the new Wasdale Mountain Rescue Base. This linked in brilliantly with our topic on Mountains. There was an actual call out whilst we were there, which enabled us to see the team in action.
We were shown around the base, we were shown the different vehicles they use and the equipment they contain, including their boat. We even went into the Control Room and could see how they dealt with a real life call out. All very exciting for us, not so for the person lost, but we were delighted to hear by email the next day that the rescue went well and everyone returned safely.
A huge thank you to the Wasdale Mountain Rescue Team of volunteers, in particular Julie and Richard who showed us around and answered all our questions.
Science Ambassador Candidates
This week children from Year 3 and 4 have been putting themselves forward to become Science Ambassadors. They have done some remarkable speeches, written letters, brought in models they have made, spouted scientific facts and even produced a powerpoint presentation all to win those votes.
Well done to all those who took part.
The children then voted for a Year 3 and a Year 4 to become our Science Ambassadors. Well done to the two below who were chosen.
In Art this term we have been focusing on Mountain Views, to link with our topic on Mountains. We have developed our analysis of art and improved our sketching skills by looking at artists work who have chosen to paint mountain landscapes. In particular we have learnt about the Japanese artist Hokusai and appreciated his 36 views of Mt Fuji. One of our favourite activities was learning how to make a collagraph print.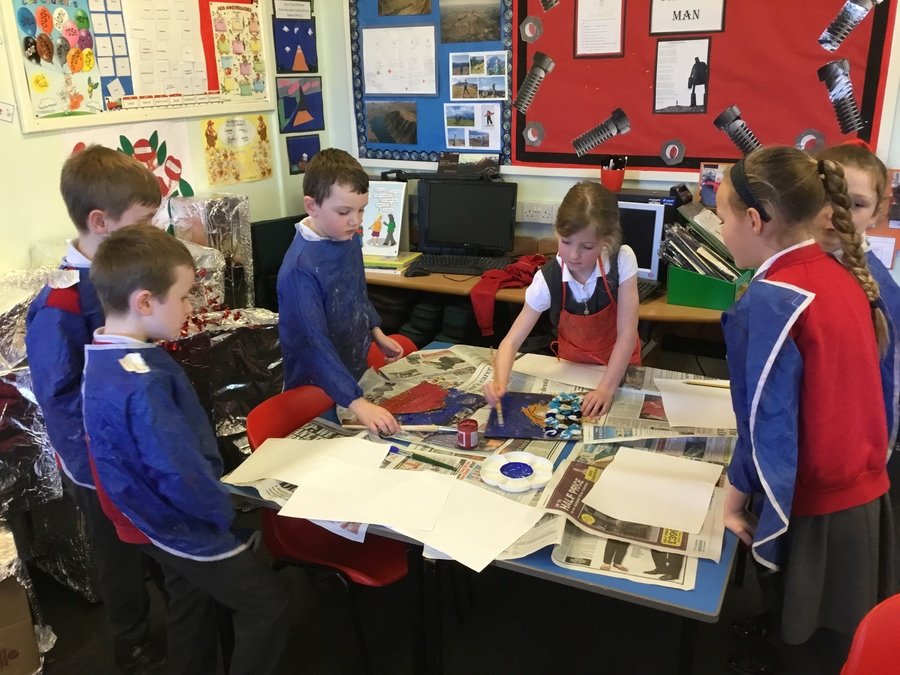 First we designed our printing plate by creating a design of Mt Fuji. We used materials to create a 3D image, sticking them onto a piece of cardboard.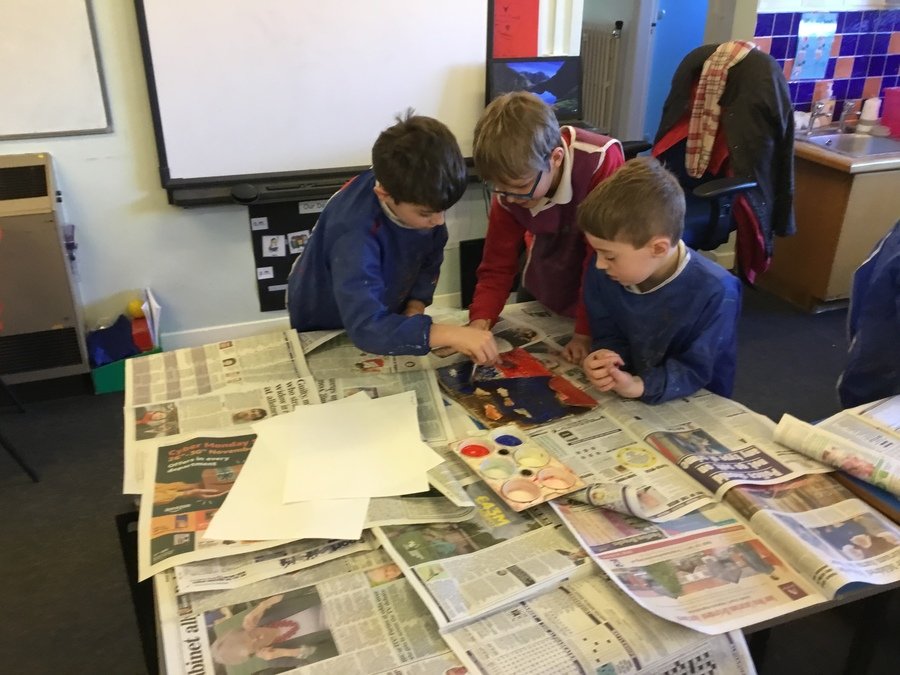 Then we painted our image, though we chose to leave some areas blank so they would appear white on the print.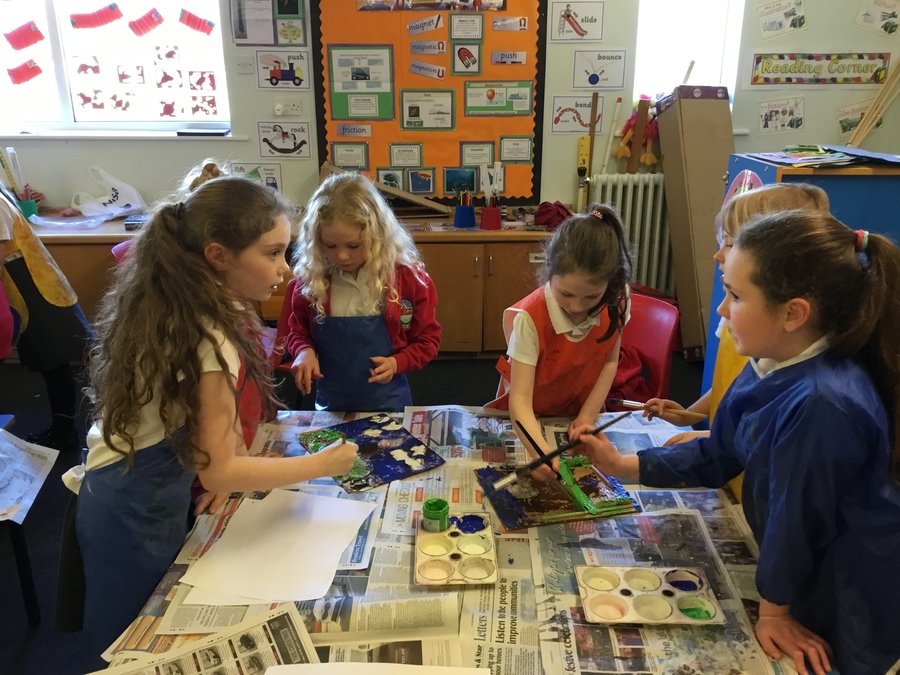 Finally we placed a piece of plain paper on top of the printing plate, pressed down hard and then carefully peeled the paper away to reveal our prints of Mt Fuji. We all chose a title for our prints and these are displayed in school for all to see.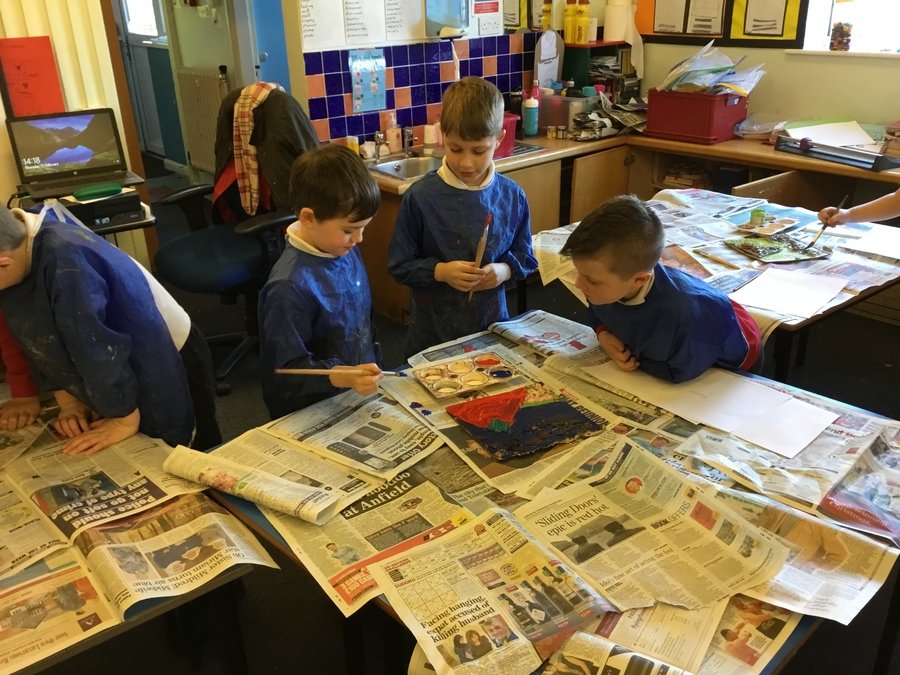 Magnet Toys and Games
To finish off our work on Forces and Magnets, the children were set the challenge of planning and designing a toy, game or product that used magnets. Once again I was overwhelmed by the ideas and creativity, not forgetting the hard work that the children have put in to create some amazing products. We had a fantastic afternoon, when each child demonstrated their creations and then we even had a chance to play and use the products, a truly fun and exciting afternoon.
Every child has also evaluated their product, explaining what is good about their design as well as thinking of ways they could improve on it and many considered what age of child they are suitable for, considering things like small parts that could be a choking hazard.
A huge thank you to my class and of course to the parents for their valued contributions. I was blown away! Enjoy viewing their fantastic work in the photos below.
Friendship
As part of our PSHE curriculum we have been looking at friendship and what a good friend is and the challenges that we are faced with.
We have made friendship bracelets for our friends. They are taking a long time to make but are being created with love.
Can you persuade me ??????
This week we have been exploring persuasive techniques in English. We received a letter from our village council who informed us that Mr Cartwright who owns a field in the village was going to sell it to a playground company. Not only that in the field stands an ancient oak tree which is the habitat to many different animals. As a village we must persuade each other what to do using persuasive vocabulary and statements.
Each of the children were given a role to debate either for or against the plans. We had great fun !
Adverb Fun !
This term we have been exploring adverbs. We were not allowed to talk (which was hard) only act out our adverbs. We had great fun. Can you guess what the adverbs are ?