Class Attendance
Week Ending 7th December 2018
Reception/Year 1 - 99.05%
Year 2 - 98.18%
Year 3/4 - 98.64%
Year 5/6 - 99%
Whole School - 98.78%
Beckermet C.E. Primary School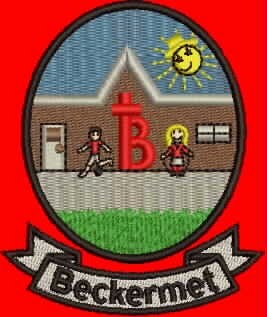 Beckermet C.E. Primary School aims to ensure that:
All pupils have an equal right, and access to, education in accordance with the National Curriculum
No pupils are deprived of their educational opportunities by either their own no-attendance or lateness, or that of other pupils
Monitoring
Registers and attendance statistics are monitored by the Headteacher on a weekly basis. These are shared with the governing body, specifically the Pupil Welfare Committee.
At the beginning of each school year targets are set for improvement in attendance. Progress towards these targets is reported to Governors throughout the year.
Targets 2017-2018
Overall attendance above 96.5%
Persistent absence less than 3.6%
The DFE state that any pupils whose attendance is less that 90% is a "Persistent Absentee." To try and prevent this wherever possible, at the end of each half-term attendance will be reviewed and if a child's attendance is less that 90% or approaching 90% then, dependent on circumstances, either a monitoring letter will be sent out or a referral made to the School Attendance panel (Inclusive of the Headteacher, Administrator, Attendance Governor and the Class Teacher if appropriate)
At the end of each term RAG letters (red, amber and green) will be sent for individual pupils to enable parents to monitor their child's attendance.
The attendance percentages for the letters are indicated below:
96 - 100% - Green
90 - 96% - Amber
Below 90% - Red
Punctuality
It is to be expected that very occasionally a child may be later for a genuine reason. The concern is about persistent late arrivals. Children begin the school day at 8.55am and valuable learning will be missed if a child is late. It can also cause great anxiety for the child.
If a child is late after 8.55am, then he/she must enter through the main entrance to the school office to inform the Administrator of his/her arrival so that the arrival time can be noted in the register and a dinner ordered if appropriate.
Lates will be monitored and if necessary a supportive meeting will be held by the attendance panel.
Holiday Absence
The DFE have taken away the authority of Headteachers to grant holidays during term time. Any holiday which could potentially be taken out of term time may not be permitted. The school acknowledges that in exceptional circumstances some parents will need to take their children out of school for holidays. The DFE states that:
"Any holiday which could potentially be taken out of term time may not be permitted. Exceptional circumstances can be of unique and significant emotional, education or spiritual value to the child which outweighs the loss of teaching time"
All holiday requests must be submitted in writing to the governing body stating why the holiday has to be taken during term time and any further supporting evidence (e.g. a letter from employer). Each case will be judged on its own merit and discussed with the family. Holidays cannot be granted retrospectively.
Attendance must be at least 95% for the 12 weeks preceding the holiday. If your holiday is not permitted it will be recorded as an unauthorised absence. We would rather you were open and honest with us regarding absences as it could mean that children will not be able to share any experiences they may have had and it could even encourage them to lie about their absence. This is not a position I would want any of our families or children to be in.
Not sharing planned absence from school could also lead to safeguarding issues; if families have not informed school that they are taking a break and school cannot contact them for an explanation of absence we may need to take steps to ensure the children and family are safe and well.
In rare cases poor attendance may lead to prosecution by the local authority.
Why is regular attendance so important?
Children who attend school regularly are more likely to:
Keep up with school work

Develop good habits and important life skills

Maintain friendships

Gain better qualifications

Have access to a wider range of opportunities when they leave school

Stay away from harm.
Any absence affects the pattern of a child's schooling and regular absence will significantly affect their learning. Additional "catch-up" time may be necessary which could impact the learning of others. Ensuring your legal responsibility and persistent absence from school without good reason can result in prosecution.
School will ensure that...
Regular, efficient and accurate recording of attendance takes place. The registers will be taken at 9.00 am and 12.45 pm. Children must be in their classrooms at this time to get their mark.
If a child arrives between 9.00 am and 9.20 am they will be marked as L (late) - if it is after 9.20 am it becomes an unauthorised absence.
The register information is entered into the school's information management system and is reported to the DFE.
Early contact is made with parent/carer when a pupil fails to attend without providing good reason.
Promotion of Attendance - We encourage attendance by:
Consistent, clear communication with parents and children about the importance of regular, prompt attendance.
Setting targets for improved attendance and sharing these with Governors, parents and children.
We reward and celebrate improvements and achievements in attendance by:
Awarding a class certificate for the class with the best attendance each week.
All awards presented publicly at whole school assemblies.
Termly certificates for those with 98-100% attendance.
Annually children with whole year attendance of 98-100% will receive a gold certificate.
Parent/Carer must...
Ensure that our child attends school and arrives at school on time. Doors open at 8.40 am and the school day begins at 8.55 am.
Inform school by no later than 10.00 am. if your child is absent either in person, text, letter or e-mail. Then update on the third and fifth day of absence.
Wherever possible make medical appointments outside of school time. Where this is not possible a copy of the appointment card/letter should be provided.
Where appropriate, carry out any work provided by the school during an authorised absence period. On you child's class page on our website there are some ideas/activities/websites for them to use if they are well enough.
It is recognised that:
The majority of pupils want to attend school to learn, to socialise with their peers, and to prepare themselves fully to take their place in society.
Pupils and their parents may need to be supported and rewarded at some stage in meeting their attendance obligations and responsibilities.
It is the responsibility of parents to ensure attendance at school as required by law.
The Legal Framework
Section 7 of the Education Act 1996 states that "the parent of every child of compulsory school age shall cause him/her to receive efficient full-time education suitable:
A) to age, ability and aptitude and
B) any special educational needs he/she may have.
Either by regular attendance at school or otherwise".
The above information can be downloaded by following the link below.